Shirley Powers
Volunteer ARC Historian
ARC Collector
---
Welcome! I've been a Volunteer Historian for the American Red Cross since 1983. I can help you identify:
ARC pins,
Nationally-issued posters,
ARC uniforms

 As a collector, I am interested in all these plus

Patches
Postcards
Sheet Music
and many other items issued by (or about) the American Red Cross.

I am neither a dealer nor an appraiser, and National ARC policy asks that I not give values of memorabilia. In any case, I would only be able to guess!

NOTE: If you email me with a question, please be sure a reply will get through any filtering software you have on your computer. (or include a phone number) Sometimes I try to reply and the message comes back...and I've no other way to contact you! Also, be sure to put something in the Subject line...there is a virus going around that sends out emails with no subject...I don't open these.
---
Identifying Your Pins/Medals
If you are looking to identify ARC pins and medals, you might be interested in "A Collector's Guide to Red Cross Pins."



It's Here!!

The latest edition is from January 2022! It's Free!! The Guide can be viewed with Acrobat Reader or downloaded to the device of your choice. Additional pins are shown under New Pins below. For download information click here.

If you only have one or two items to identify, you can contact me by email with a picture or description and I'll get back to you.

Volunteer Service Pins
Information About Nurse Badges

National Pins from the 1940's (WWII)

Help ME identify pins! Here are some pictures of pins that I don't know "Who Done It?" Do you? 01/31/13
---
Other Useful Pin Information
As new pins are issued (or "newly" discovered) I try to help people keep up. These pages show pins and idcodes not in the current edition of the Pin Guide or where there might be changes in the picture or other information.


01/15/22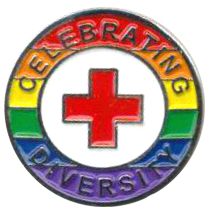 New Pins
---
Collecting and Trading
I have listed pins I have available in quantities 10/03/21 from various ARC units can also be found here. Also check out the Lot Sales 09/30/21

---
Posters
and other Paper Memorabilia
I maintain a "master list" of posters issued by our National organization over the years. It is fairly complete, however now and again I come across one I haven't documented yet. The information I have includes text, description, size, year of issue, artist, and id number--or such information as applies.

To help you identify what you already have (or might be looking for), I have posted photographs of many of these ARC posters from 1910 - 1950 along with other relevant information There are also pictures of window stickers, counter cards, worker ID tags, postcards and some other "fun" stuff!

If you have other paper items which is not on these links, I may still be able to provide information on it. Email me by email with a picture (.jpg preferred) or the text (from upper left to lower right), and such other information you can, and I'll see what "blanks" I can fill in for you.
---
Uniforms
There is a growing interested in the Uniforms of the organization, especially those worn during the war years. In April 2006 I issued the Second Edition of
A Guide to American Red Cross Uniforms
. It is a compilation of information from uniform manuals, photographs from our Archives or magazines, and first hand accounts of "what we were wearing." It includes line drawings of many of the uniforms. It is available in PDF format.
Click here
.
---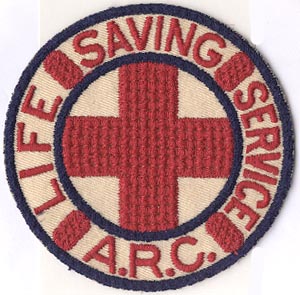 Patches
I've added pictures of my patch collection (and a few from friends) to the web. Click Here. These are mostly National issues, but there are three groups of "locals." There are more of them "out there" in most of the categories. Have something I don't? Let's talk! email me

---
Other Memorabilia
Although I have not done much in the way of research on other items, some information has "fallen into my hands" through other projects. I may be able to narrow down era, purpose, etc. for a number of other American Red Cross items. Send me a description and I'll see what I can do. If nothing else, I may be able to refer you to someone else.
---

I collect almost everything. Exceptions include letters, memos, and photographs (unless they directly relate to one of my other projects). Let me know if you have something I might me interested in.
A little background on me...should you care.

---
Other Interesting Links
Information on Coffee & Doughnuts
The Red Cross Emblem--meaning and use
Provided with permission of the American National Red Cross
ARC Museum
American Red Cross Home Page
American Red Cross Overseas Association

If you have comments or suggestions, email me